Weekender Duffle
Sold Out
Description
Designed to travel with you everywhere you need to go, the Weekender is a tribute to the timeless style of large volume duffle bags with a classic style. The bag is water resistant, versatile, and durable for everyday use.
Details
Shipping and Returns
Hand-Cut in California.
FREE shipping on all U.S. orders over $100.
Ships within 1-2 days.
All international shipping carrier calculated at checkout.
Our Process
How we do it
We recycle billboard vinyl and turn it into unique, durable bags and products. Over the past six years we've processed 2 million pounds of vinyl that's destined for landfills.
Hand cut vinyl
Making the best of what we have
Each item is sewn to create a unique, high-quality, durable product where there's literally nothing like it. Each of our cut pieces are meticulously sewn together using high quality materials to ensure that your bag can endure whatever adventure you take it on.
Customer Reviews
Write a Review
Ask a Question
10/05/2020
janette
United States
LOVE
extremely pleased with quality of everything I ordered. (most gifts for holidays). Great look, great quality, GREAT story. THANKS
10/02/2020
Jess B.
United Kingdom
UK buyer
Excellent bag - so pleased to find this website after searching for "sustainable luggage" very reasonable prices for overseas shipping and tax imports. Will def be saving up to get the rucksack!
09/30/2020
martin r.
Canada
Pratical & goodlooking
Practical & goodlooking !
09/28/2020
Tracy
United States
LOVE!
I love my duffle! Perfect size for quick getaway! I have the Ella tote and backpack as well! Love them all! They're unique one of a kind and help our environment!!!
09/24/2020
S
Canada
Perfect bag, perfect timing.
I was about to start packing for the cottage when my bag came in the mail and I could not be happier. It had enough room for my overpacking issues and I love how sturdy it is. This is my favourite duffle bag so far. I chose a big bold design with white and bright blue. So happy I didn't waste money on another athletic brand just to have the zipper break within a year. Big zippers, simple design, and everything I need for a long weekend.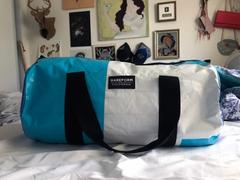 translation missing: en.general.accessibility.refresh_page
translation missing: en.general.accessibility.selection_help