Description
Inspired by the simplicity of the outdoors, this bag's exterior is complete repurposed billboard. Nylon interior lining and heavy-duty zippers make this bag the perfect companion for work or a day hike.
Details
Shipping and Returns
Hand-Cut in California.
FREE shipping on all U.S. orders over $100.
Ships within 1-2 days.
All international shipping carrier calculated at checkout.
Add to Cart ($92)
Our Process
How we do it
We recycle billboard vinyl and turn it into unique, durable bags and products. Over the past seven years we've processed 3 million pounds of vinyl that's destined for landfills.
Hand cut vinyl
Making the best of what we have
Each item is sewn to create a unique, high-quality, durable product where there's literally nothing like it. Each of our cut pieces are meticulously sewn together using high quality materials to ensure that your bag can endure whatever adventure you take it on. 
Customer Reviews
Write a Review
Ask a Question
01/03/2020
Kenzie F.
United States
Love it!
Couldn't ask for a better book bag! Perfect size and waterproof
01/03/2020
Mahealani K.
United States
The perfect Backpack for me!
I am so stoked on the quality of Rareform products. So far my boyfriend has gotten 2 wallets and I have 1 as well. I have been eyeing out a Summit backpack for quit some time and my boyfriend got me one for Christmas! I love it so much. It's just the right size for me and has so many pockets!! I love the amazing quality as always!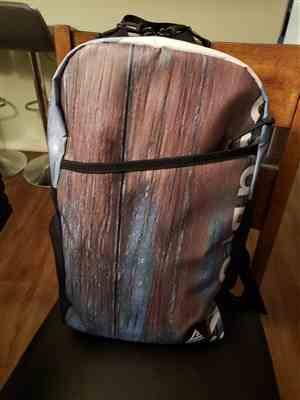 12/30/2019
Jane S.
United States
I love this backpack.
This is the third Rareform product I've bought (the others: a wallet, a large bag I forget the name of that I use for my kids' beach stuff). I love it so much. I use it as a work bag, and it carries a surprising amount of stuff without a lot of bulk. (Right now it has my laptop and cord, two notebooks, two large books, my lunch, and my workout clothes.) I love the side pockets, which are deep enough to hold my water bottle (and lots of other stuff) without it falling out. My favorite feature is that it's water resistant, which is really valuable as someone who commutes on foot and via public transit. I brought it to work today through a snowstorm and everything inside was nice and dry. If you're looking for a compact but spacious backpack that'll keep your stuff dry and your water bottle from falling out if you bend over, this is the backpack for you.
12/25/2019
Dorry F.
United States
Perfect size
Daughter loves it!
12/21/2019
Carolyn S.
United States
Youre a business and a cause!
Fabulous gifts, including one for myself... Happy to support a business with a noble mission!
translation missing: en.general.accessibility.refresh_page
translation missing: en.general.accessibility.selection_help