Description
Inspired by the simplicity of the outdoors, this bag's exterior is complete repurposed billboard. Nylon interior lining and heavy-duty zippers make this bag the perfect companion for work or a day hike.
Details
Shipping and Returns
Hand-Cut in California.
FREE shipping on all U.S. orders over $100.
Ships within 1-2 days.
All international shipping carrier calculated at checkout.
Our Process
How we do it
We recycle billboard vinyl and turn it into unique, durable bags and products. Over the past six years we've processed 2 million pounds of vinyl that's destined for landfills.
Hand cut vinyl
Making the best of what we have
Each item is sewn to create a unique, high-quality, durable product where there's literally nothing like it. Each of our cut pieces are meticulously sewn together using high quality materials to ensure that your bag can endure whatever adventure you take it on.
Customer Reviews
Write a Review
Ask a Question
08/09/2020
James V.
United States
Love it
I've been eying Rareform for years and finally got a job (I've been in grad school) and this was one of my first buys. It's super durable. Great for my small town in the arctic where I walk ot the post office every day in all weather. And the mission is so rad. Support!
04/22/2020
Helen-Marie T.
Canada
03/22/2020
lilmeech .
United States
Beautiful & well crafted
My daughter loves her new backpack! Can't wait to show it off to all her friends
01/03/2020
Kenzie F.
United States
Love it!
Couldn't ask for a better book bag! Perfect size and waterproof
01/02/2020
Mahealani K.
United States
The perfect Backpack for me!
I am so stoked on the quality of Rareform products. So far my boyfriend has gotten 2 wallets and I have 1 as well. I have been eyeing out a Summit backpack for quit some time and my boyfriend got me one for Christmas! I love it so much. It's just the right size for me and has so many pockets!! I love the amazing quality as always!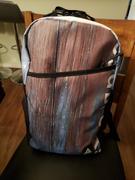 translation missing: en.general.accessibility.refresh_page
translation missing: en.general.accessibility.selection_help