Rio Backpack
Sold Out
Final Sale
Description
Featuring a refined silhouette, the versatile Rio Backpack is inspired by artistic innovation and has an elegantly compact design. This backpack has a large zippered entry, padded laptop sleeve, and subtle branding.
Details
Shipping and Returns
Hand-Cut in California.
FREE shipping on all U.S. orders over $100.
Ships within 1-2 days.
All international shipping carrier calculated at checkout.
Our Process
How we do it
We recycle billboard vinyl and turn it into unique, durable bags and products. Over the past six years we've processed 2 million pounds of vinyl that's destined for landfills.
Hand cut vinyl
Making the best of what we have
Each item is sewn to create a unique, high-quality, durable product where there's literally nothing like it. Each of our cut pieces are meticulously sewn together using high quality materials to ensure that your bag can endure whatever adventure you take it on.
Customer Reviews
Write a Review
Ask a Question
MH
03/20/2018
Matt H.
Love this company so much
Best backpacks over ever owned. On my second will buy again
Great gift
Great product! Super unique!
I love it!
I love my new Rio backpack. It is the perfect size for daily use, whether that is school, errands, or work. I love that it has a laptop sleeve, and the smaller pocket is very useful. The back and the straps are cushioned, so it's easy and comfortable to carry, and also seems incredibly light, even when my computer and books are inside. I also enjoy the design - it's aesthetically pleasing and attractive. Would recommend!
I can see myself using this for years to come!
The backpack is very durable, and the zippers are large so it makes for a clean and easy opening/closing. Even the diagonal front pocket has more space than it appears, and I can fit my laptop with a Rareform sleeve into the pocket in the main compartment. I use this every day as a daypack. My only wish is that it had a place to keep a water bottle. Keep up the great work, Rareform!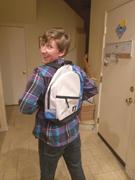 translation missing: en.general.accessibility.refresh_page
translation missing: en.general.accessibility.selection_help