Description
The Parker Pouch is crafted to carry your daily essentials and perfect for storing your small tech accessories. Plus, the convenient carrying handle allows you to travel light.
One-of-a-kind design
Repurposed billboard vinyl 
#5 YKK reverse zipper
Black polyester lining
Dimensions: 3"H x 7"W x 3"W
Handle length: 4", handle drop: 1"
Hand-Cut in California
FREE shipping on all U.S orders over $75.
Ships within 1-2 days.
Details
Shipping and Returns
Hand-Cut in California.
FREE shipping on all U.S. orders over $100.
Ships within 1-2 days.
All international shipping carrier calculated at checkout.
Our Process
How we do it
We recycle billboard vinyl and turn it into unique, durable bags and products. Over the past six years we've processed 2 million pounds of vinyl that's destined for landfills.
Hand cut vinyl
Making the best of what we have
Each item is sewn to create a unique, high-quality, durable product where there's literally nothing like it. Each of our cut pieces are meticulously sewn together using high quality materials to ensure that your bag can endure whatever adventure you take it on.
Customer Reviews
01/08/2020
Thalia M.
United States
Sturdy and safe!
Bought it as a small holder for a first aid kit - I'm a diabetic, so keeping extra supplies in a safe place is important. Sturdy, waterproof, and puncture resistant!
01/03/2020
Deborah C.
United States
Love this pouch!
I ordered two of these pouches for my nieces for Christmas and I wish I would have ordered one for me too! When I got the pouches I ordered the tote bag for myself and I love that too! All the products are unique and no one has exactly the same thing. The material seems super strong - and I figure that since it was made to withstand weather on a billboard, it should last a really long time as a bag! Excellent product, Rareform, and I love the reusing of materials!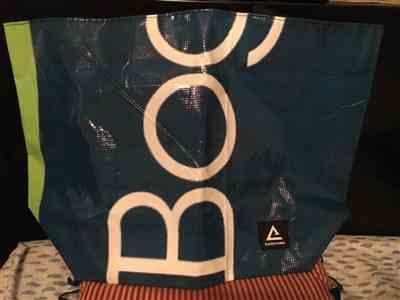 01/03/2020
Shaina M.
United States
My only beef...
Love y'all. As a whole package. The only issue I have with this pouch is that it is narrower at the zipper than the bottom, which makes it impossible to hoard my plethora of pens in it (which was my intention). But it's cool because it works for my top coats and tools and whatnot for my manicure set wonderfully. She arrived in great time for the holiday season, and didn't catfish me. But that's literally the only problem I had personally. The handle on the end is elite. It's rugged. Please stop spamming me with sales though...I'm running out of money and I want to buy all the things.
12/27/2019
Betsy O.
United States
Love it!
I would buy this again! It is well made and the zipper works great!
12/27/2019
Betsy O.
United States
Would buy again!
Well made!!
translation missing: en.general.accessibility.refresh_page
translation missing: en.general.accessibility.selection_help