Description
Inspired by the short day trip, the Light Duffle is constructed using repurposed billboard vinyl for the exterior and lined with a grey nylon pack cloth. The bag is water resistant, versatile, and durable for everyday use.
Details
Shipping and Returns
Hand-Cut in California.
FREE shipping on all U.S. orders over $100.
Ships within 1-2 days.
All international shipping carrier calculated at checkout.
Our Process
How we do it
We recycle billboard vinyl and turn it into unique, durable bags and products. Over the past six years we've processed 2 million pounds of vinyl that's destined for landfills.
Hand cut vinyl
Making the best of what we have
Each item is sewn to create a unique, high-quality, durable product where there's literally nothing like it. Each of our cut pieces are meticulously sewn together using high quality materials to ensure that your bag can endure whatever adventure you take it on.
Customer Reviews
Write a Review
Ask a Question
07/23/2020
AndreaJ
United States
Obsessed
I love these products. Just used this small duffle as our "road trip" bag for traveling with dogs and kids... we packed sunscreen, baby wipes, dog treats, etc. for the car. Everything by Rareform is so durable and sturdy! I think they must have a hard time photographing the material though... the purple on the picture for this item looks much brighter in person, whereas the lettering looks white in the photo but is a much more muted gray in person. I'm sure this is a function of the billboard material as I had a similar experience with a cloud-pattern backpack I bought. But if you just accept that billboard material can look different depending on lighting, I think that is part of the fun of owning these products!
07/16/2020
Emily
United States
Fantastic bag
Absolutely loving this sturdy, lightweight, and attractive duffel. Bought it to use as a gym bag, which it's perfect for, but now I'm really wishing I had another to use as an everyday tote. I love love love the overall look and feel of the bag, and I always feel great making purchases from companies whose products I believe in--so happy I was introduced to Rareform. Going to keep an eye out in the future for different styles in a similar color to match!
Perfect size
The light duffle is the perfect size for my needs
07/10/2020
Maddie
United States
Awesome bag (but really the best sleeping bag for my cat)
I bought this bag so I could carry all the necessities my cat needed for our vacation. But as soon as he saw it, he got in it and now it is all his. We put in the living room at night while we watch tv so he can sit in it and he stays in all night. I just carry him into his room and he's all good.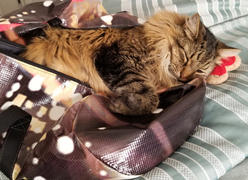 translation missing: en.general.accessibility.refresh_page
translation missing: en.general.accessibility.selection_help