Description
Designed with the minimalist in mind, the Highland Wallet is slim enough to fit in your back pocket, yet sturdy enough to withstand all of your adventures. Simple, yet bold, the Highland Wallet is sure to turn heads with its streamlined design.
Details
Shipping and Returns
Hand-Cut in California.
FREE shipping on all U.S. orders over $100.
Ships within 1-2 days.
All international shipping carrier calculated at checkout.
Add to Cart ($36)
Our Process
How we do it
We recycle billboard vinyl and turn it into unique, durable bags and accessories. Over the past seven years we've processed 3 million pounds of vinyl that's destined for landfills.
Hand cut vinyl
Making the best of what we have
Each item is sewn to create a unique, high-quality, durable product where there's literally nothing like it. Each of our cut pieces are meticulously sewn together using high quality materials to ensure that your bag can endure whatever adventure you take it on. 
Customer reviews
Customer Reviews
Write a Review
Ask a Question
12/25/2019
Rachel B.
United States
Amazing!
I ordered a wallet because I was interested in this product. I didn't need a wallet but I am blown away by how nice it is and the quality of it! I'm going to order a bag now that I have had a chance to see the high quality of the products!
12/23/2019
N. Burch
United States
12/23/2019
Natashia B.
United States
Don't wait too long!
I had three wallets in my cart and I waited a few hours to decide if they were the ones I wanted. When I was ready to check out, it turns out one of the wallets in my cart were sold to someone else. This is the third time this has happened. Overall, my husband and I are satisfied with the wallets we chose.
12/05/2019
Kathleen F.
United States
most practical gift
This small wallet is just the thing for a night out with a small purse, or a day at the ballpark. Carries only what you need! It's my "go to" for a great gift.
10/14/2019
Ralph A.
United States
It's Pretty and it's Mine!
Overall, such a very seamless shopping experience! I've been eyeballing wallets from Rareform for quite some time (about a year or so now), and I was super curious about the material. I ordered the exact one I saw online, and it's really durable! All of my cards fit inside so discreetly, and the pop of color really draws folks' attention! It feels high end and it is undoubtedly bespoke. I highly recommend picking out more than one, just for variety!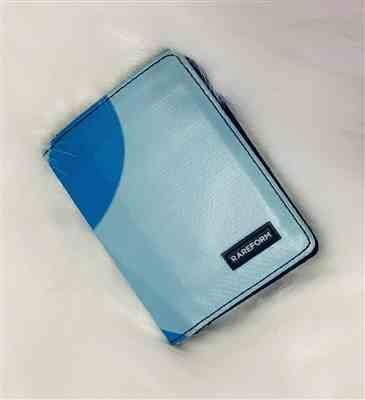 translation missing: en.general.accessibility.refresh_page
translation missing: en.general.accessibility.selection_help