Description
Designed with the minimalist in mind, the Highland Wallet is slim enough to fit in your back pocket, yet sturdy enough to withstand all of your adventures. Simple, yet bold, the Highland Wallet is sure to turn heads with its streamlined design.
Details
Shipping and Returns
Hand-Cut in California.
FREE shipping on all U.S. orders over $100.
Ships within 1-2 days.
All international shipping carrier calculated at checkout.
Our Process
How we do it
We recycle billboard vinyl and turn it into unique, durable bags and products. Over the past six years we've processed 2 million pounds of vinyl that's destined for landfills.
Hand cut vinyl
Making the best of what we have
Each item is sewn to create a unique, high-quality, durable product where there's literally nothing like it. Each of our cut pieces are meticulously sewn together using high quality materials to ensure that your bag can endure whatever adventure you take it on.
Customer Reviews
Filter Reviews:
pocket
wallets
wallet
iPhone X
02/06/2019
Kelsey C.
United States
too thick
I really enjoy thin wallets that can fit with my iPhone X in one pocket so its only one pocket I have to worry about when I go out at night, unfortunately this wallet has proven to be too thick to do that.
08/06/2018
Gina C.
United States
Great quality
Love the color and high quality of this wallet. Will definitely recommend and purchase again.
07/09/2018
Donna L.
United States
Highland Wallet
Quality stitching and great size.
05/25/2018
Micah H.
United States
Solid product
Got the highland wallet and picked the mystery option. Ended up getting the coolest wallet I've ever had. Kinda hard to get cards out, but honestly not that hard. Very slim and fits in a pocket super well. Got some cash the other day and it fit in the side pocket. I personally never carry cash so this wallet works for me!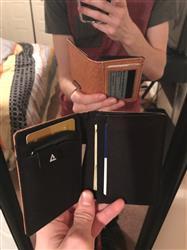 07/12/2017
Charlie L.
United States
Great Quality Product
The highland card holder is just as advertised. Unique style, high quality, and all made from recycled material. Customer for life.
translation missing: en.general.accessibility.refresh_page
translation missing: en.general.accessibility.selection_help