Ella Purse - Small
Sold Out
Description
The Small Ella Purse carries all your everyday essentials: phone, wallet, makeup, keys, etc. keeping your most prized posessions nearby always. The Small Ella Purse easily folds flat for easy storage when not in use. 
Details
Shipping and Returns
Hand-Cut in California.
FREE shipping on all U.S. orders over $100.
Ships within 1-2 days.
All international shipping carrier calculated at checkout.
Our Process
How we do it
We recycle billboard vinyl and turn it into unique, durable bags and products. Over the past six years we've processed 2 million pounds of vinyl that's destined for landfills.
Hand cut vinyl
Making the best of what we have
Each item is sewn to create a unique, high-quality, durable product where there's literally nothing like it. Each of our cut pieces are meticulously sewn together using high quality materials to ensure that your bag can endure whatever adventure you take it on.
Customer Reviews
Write a Review
Ask a Question
02/04/2020
Elizabeth B.
United States
Love the Ella!
Love the size ( not to big) the color is exactly as pictured and the compliments and questions of where it can be bought don't stop! Nice workmanship and great to know it's an up-cycled product
01/19/2020
Victoria S.
United States
Love this bag
This bag is perfect! I've purchased several products from rareform and they do not disappoint. My only complaint with this bag is the handles are seen on backwards, which causes them to flop on opposite sides rather than strands straight up. Not that big a deal. The bag is very well made, nice zipper, and it can take a beating and still look great. Love the uniqueness of each item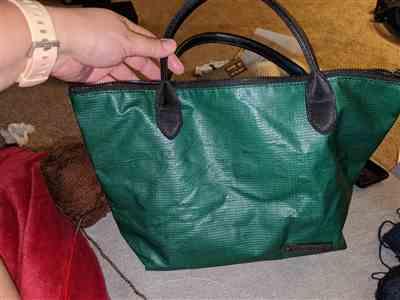 Hi Victoria! Thanks for the review! That is actually how the handles are supposed to look. :)
01/16/2020
Ann C.
United States
Perfect Tote
Great bag, even though it is called small, it holds a load of stuff. Perfect for everyday. Lightweight so it doesn't get overloaded and weatherproof. I highly recommend this bag.
01/04/2020
Gabrielle F.
United States
Love it!
After buying a few other items as Christmas gifts, I bought this for myself! It is so well put together. I thought it was small but we hen I fully opened the purse I found I had a lot of room inside.i will be shopping again!
01/03/2020
Tiann B.
United States
Great gifts
Everyone, including me, loved their bags I bought for the holiday!
translation missing: en.general.accessibility.refresh_page
translation missing: en.general.accessibility.selection_help