Ella Purse - Medium
Sold Out
Description
With straps big enough to go over your shoulder, the Medium Ella Purse carries all your everyday essentials: phone, wallet, makeup, keys, etc. keeping your most prized posessions nearby always. The Medium Ella Purse easily folds flat for easy storage when not in use. 
Details
Shipping and Returns
Hand-Cut in California.
FREE shipping on all U.S. orders over $100.
Ships within 1-2 days.
All international shipping carrier calculated at checkout.
Our Process
How we do it
We recycle billboard vinyl and turn it into unique, durable bags and products. Over the past six years we've processed 2 million pounds of vinyl that's destined for landfills.
Hand cut vinyl
Making the best of what we have
Each item is sewn to create a unique, high-quality, durable product where there's literally nothing like it. Each of our cut pieces are meticulously sewn together using high quality materials to ensure that your bag can endure whatever adventure you take it on.
Customer Reviews
Write a Review
Ask a Question
Filter Reviews:
things
designs
quality
purse
lining
art supplies
couple
errands
Ella
phone pocket
Ella medium
This is the best and my most favorite. I didn't want smallor large and the medium imperfect. I do all the driving and I want it beside me on the console PERFECT.
The perfect bag this winter
I just bought my second Ella purse so that I can keep my art supplies and my "purse" gear dry this winter. I often have both in my car if I'm doing errands after working in the studio. The inside zipped phone pocket is much appreciated. I would give it 5 stars if the lining were a lighter color. It's hard to find things in a black interior. I do use a couple of my rareform pouches and that helps. Quality is great as always and I love the abstract designs.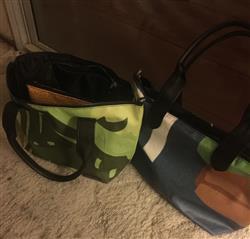 translation missing: en.general.accessibility.refresh_page
translation missing: en.general.accessibility.selection_help