Description
This practical and minimal Clarke Pouch can be used as a clutch or to efficiently keep items seperate from the rest of your bag. The plush fleece lining is perfect for keeping items safe and secure. 
Details
Shipping and Returns
Hand-Cut in California.
FREE shipping on all U.S. orders over $100.
Ships within 1-2 days.
All international shipping carrier calculated at checkout.
Add to Cart ($28)
Our Process
How we do it
We recycle billboard vinyl and turn it into unique, durable bags and products. Over the past seven years we've processed 3 million pounds of vinyl that's destined for landfills.
Hand cut vinyl
Making the best of what we have
Each item is sewn to create a unique, high-quality, durable product where there's literally nothing like it. Each of our cut pieces are meticulously sewn together using high quality materials to ensure that your bag can endure whatever adventure you take it on. 
Customer Reviews
Write a Review
Ask a Question
perfect all around
love this clutch - I originally purchases because of its size... for bringing in our hockey atean (security dictates a smaller bag at entry)... I was so suprised. It is made from high quality materials, seen so very well. I am officially WOWED and now will purchase more for gifts ... perfect high quality gift and a perfect price point.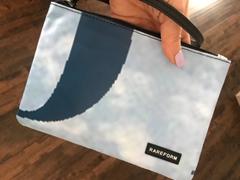 Great for Travel!
I purchased this clutch for a trip. I wanted something to have at the airport for my passport, id and phone to keep everything handy and accessible. The strap was really nice to have for some security. The inside has a very soft lining. I am very happy with this clutch - great customer service with Rareform!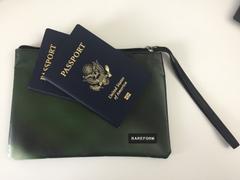 Great size!
This is the perfect size, not too small and not too big. I'm sure I will get a lot of use out of it!!
fantastic customer service
i picked out two items and by the time my order was processed one of them was gone. i got an email apology AND a phone call from one of the owners saying sorry and asking me to pick a different one. they sent a small wallet type piece to make up for the inconvenience! when do you ever get that kind of service? they also expedited my shipping for no extra cost. the bags are all cool too.
translation missing: en.general.accessibility.refresh_page
translation missing: en.general.accessibility.selection_help