Card Holder
Sold Out
Final Sale
Description
The Card Holder was crafted for the minimalist that wants to keep their wallet beautifully simple. This is our slimmest wallet and allows for multiple cards and includes a top sleeve pocket to keep your Japanese yen, euro or US dollars. Keep your pockets smooth and super slim.
Details
Shipping and Returns
Hand-Cut in California.
FREE shipping on all U.S. orders over $100.
Ships within 1-2 days.
All international shipping carrier calculated at checkout.
Our Process
How we do it
We recycle billboard vinyl and turn it into unique, durable bags and products. Over the past six years we've processed 2 million pounds of vinyl that's destined for landfills.
Hand cut vinyl
Making the best of what we have
Each item is sewn to create a unique, high-quality, durable product where there's literally nothing like it. Each of our cut pieces are meticulously sewn together using high quality materials to ensure that your bag can endure whatever adventure you take it on.
Customer Reviews
Write a Review
Ask a Question
Perfect for small bags!
I love this little wallet! It's just right for my tiny Coach bag!
Quality First
The quality of the first card holder I bought well over a year ago, possibly two years, brought me back for a second. No, the first card holder did not wear out. It still looks new. Great products at great prices. Thanks, RAREFORM! I'll be back again one day.
Superb
I am sucker for re-purposed ans sustainable products, most of which I have come to realize come at the expense of quality. This is not the case. Not only is the card holder unique, visually appealing but the quality is also outstanding. I couldn't have asked for anything more in terms of look, quality and price.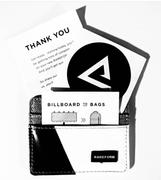 translation missing: en.general.accessibility.refresh_page
translation missing: en.general.accessibility.selection_help