Description
The classic Bi-Fold Wallet stays true to the timeless style: A classic landscape designed for all currencies. The more you use the wallet, the better it will look. Ideal for those who want to carry a lot and keep the essentials close.
Details
Shipping and Returns
Hand-Cut in California.
FREE shipping on all U.S. orders over $100.
Ships within 1-2 days.
All international shipping carrier calculated at checkout.
Our Process
How we do it
We recycle billboard vinyl and turn it into unique, durable bags and products. Over the past six years we've processed 2 million pounds of vinyl that's destined for landfills.
Hand cut vinyl
Making the best of what we have
Each item is sewn to create a unique, high-quality, durable product where there's literally nothing like it. Each of our cut pieces are meticulously sewn together using high quality materials to ensure that your bag can endure whatever adventure you take it on.
Customer Reviews
01/08/2020
Nicole C.
Canada
Impressed
I bought this wallet for my brother who has multiple physical disabilities and visual impairments. It was hard to find a wallet any where else with the dark outside, light stripe in the middle and light weight. This wallet had it all, I've heard no complaints from him and I expect the wallet to last a long time! Thanks rareform!
01/07/2020
David F.
United States
Bi-Fold wallet
I bought this as a Christmas gift for someone and they absolutely love it. In the past 2 weeks, I've already heard 2 or 3 times about how much they like their new wallet. I loved the fact that this product was upcycled and I love that my loved one is enjoying it so much. It's a win-win!
01/03/2020
Elaine M.
United States
Wallets
My family loves their wallets. Delivery was on time.
01/03/2020
Ali D.
United States
Secret Santa gift - great hit!
I purchased this wallet for my Reddit Secret Santa and I wasn't 100% sure he'd be into the wallet or the concept. After receiving his feedback, he loved it! I also loved it, I liked that there was vinyl on both the outside and inside and several card slots, which would be prove useful.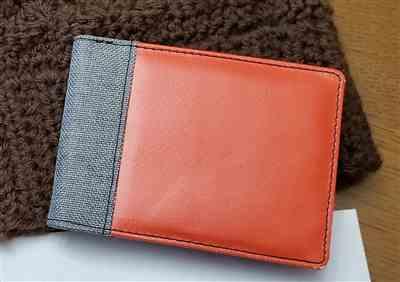 01/03/2020
Noriko A.
Australia
Love it :)
I bought it as a Xmas present for special friend I was so happy aboiy the quality ans design :) 10/10! I want one for myself now :)
translation missing: en.general.accessibility.refresh_page
translation missing: en.general.accessibility.selection_help