Description
Inspired by the timeless silhouette, combines a durable heathered fabric with our signature repurposed billboard material. Shoulder straps include a small 'hint' of billboard material to fit your style.
Details
Shipping and Returns
Hand-Cut in California.
FREE shipping on all U.S. orders over $100.
Ships within 1-2 days.
All international shipping carrier calculated at checkout.
Our Process
How we do it
We recycle billboard vinyl and turn it into unique, durable bags and products. Over the past six years we've processed 2 million pounds of vinyl that's destined for landfills.
Hand cut vinyl
Making the best of what we have
Each item is sewn to create a unique, high-quality, durable product where there's literally nothing like it. Each of our cut pieces are meticulously sewn together using high quality materials to ensure that your bag can endure whatever adventure you take it on.
Customer Reviews
Filter Reviews:
Rareform
compliments
products
environment
gifts
friends
family
story
street
03/19/2019
Victor M.
United States
Love Rareform
I can't tell you how many compliments I get walking around the street with this sweet looking bag. Then I get to tell them the story behind Rareform, shark tank and how we're also helping the environment. Love love love their products and will be buying these as gifts for friends and family for years to come!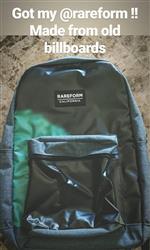 translation missing: en.general.accessibility.refresh_page
translation missing: en.general.accessibility.selection_help