Description
Inspired by the timeless silhouette, combines a durable heathered fabric with our signature repurposed billboard material. Shoulder straps include a small 'hint' of billboard material to fit your style.
Details
Shipping and Returns
Hand-Cut in California.
FREE shipping on all U.S. orders over $100.
Ships within 1-2 days.
All international shipping carrier calculated at checkout.
Add to Cart ($73.80)
Our Process
How we do it
We recycle billboard vinyl and turn it into unique, durable bags and products. Over the past seven years we've processed 3 million pounds of vinyl that's destined for landfills.
Hand cut vinyl
Making the best of what we have
Each item is sewn to create a unique, high-quality, durable product where there's literally nothing like it. Each of our cut pieces are meticulously sewn together using high quality materials to ensure that your bag can endure whatever adventure you take it on. 
Customer Reviews
Write a Review
Ask a Question
Perfect Size and Style
I got this backpack for my boyfriend and he absolutely loved the way it looked and how it's made from recycled, sustainable products! I was worried the bag was going to be too small but he says it's the perfect size to use as a daily backpack while at university. All of the pockets are super conveniently placed and sized, so he doesn't lose things like headphones in there, and it's not bulky. It feels durable and sturdy, which is of course important if you're carrying around textbooks. And of course the best part is that it is completely unique - nobody's ever going to have one just like it, which I think is pretty awesome!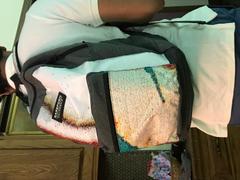 Awesome!
I love this bag. It's perfect for plane travel. I got tons of compliments on it. I will be buying more bags from you!
Light and not too bulky
I like the design but especially love that is light and not too bulky. Spacious inside but easy to carry.
Backpack
Bought this for my teenage son and he Loves it! He received lots of compliments and where can I get one. Great quality and will definitely order more products.
translation missing: en.general.accessibility.refresh_page
translation missing: en.general.accessibility.selection_help