Description
The Snap Case is crafted from re-purposed billboard vinyls to protect your iPhone 8 Plus and iPhone 7 Plus. Featuring a durable hardshell exterior for complete protection, our surprisingly slim cases are built to last.
Details
Shipping and Returns
Hand-Cut in California.
FREE shipping on all U.S. orders over $100.
Ships within 1-2 days.
All international shipping carrier calculated at checkout.
Add to Cart ($28)
Our Process
How we do it
We recycle billboard vinyl and turn it into unique, durable bags and products. Over the past seven years we've processed 3 million pounds of vinyl that's destined for landfills.
Hand cut vinyl
Making the best of what we have
Each item is sewn to create a unique, high-quality, durable product where there's literally nothing like it. Each of our cut pieces are meticulously sewn together using high quality materials to ensure that your bag can endure whatever adventure you take it on. 
Customer Reviews
Write a Review
Ask a Question
07/09/2019
Allanah R.
United States
Love this case!
Perfect combination of durability and mobility. Sleek and sturdy.
04/18/2019
LeeAnn C.
United States
rAD cASE
i am a fan of EVERYTHING Rareform, so when I saw that they had an Iphone 8 case I had to order it. Black and white is my favorite, so this little gem worked out perfect! I love the feel of it and would def. order another one! Thanks so much! The best part about this case is that people ask me "What is RAREFORM?" And I get to share your amazing story and mission with them! Thank you!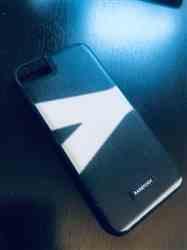 02/25/2019
Mark L.
United States
Good case
Sturdy, and sleek. I haven't had a problem with this case whatsoever. My only complaint is the stitched on rareform patch on the lower third that causes it not to lay flat. It's a super minor issue. Would buy again if on sale.
12/30/2018
BLYTHE A.
United States
Not available
This is the one ordered but was told it was no longer available. However, I was able to select another and the company included a wallet. The recipient was very happy.
11/07/2018
Drew R.
United States
Another awesome product
This is now the 3rd product I've ordered from Rareform and it's great. It's sleek, pretty and fits my phone perfectly. Love rareform and will continue to order from them.
translation missing: en.general.accessibility.refresh_page
translation missing: en.general.accessibility.selection_help