Description
The ideal surfboard bag for day-to-day use. Each bag is unique in design and uses 1/4 inch foam to keep your board safe. The repurposed billboard vinyl is UV and heat-reflective plus ultralight and durable.
Details
Shipping and Returns
Hand-Cut in California.
FREE shipping on all U.S. orders over $100.
Ships within 1-2 days.
All international shipping carrier calculated at checkout.
Add to Cart ($88)
Our Process
How we do it
We recycle billboard vinyl and turn it into unique, durable bags and products. Over the past seven years we've processed 3 million pounds of vinyl that's destined for landfills.
Hand cut vinyl
Making the best of what we have
Each item is sewn to create a unique, high-quality, durable product where there's literally nothing like it. Each of our cut pieces are meticulously sewn together using high quality materials to ensure that your bag can endure whatever adventure you take it on. 
Customer Reviews
Write a Review
Ask a Question
BL
10/21/2018
Bryan L.
Excellent
A quality bag that looks great too. Affordable shipping to Hawaii.
Second Board Bag
I've purchased two board bags from Rareform, one about 6 months ago that was a 5'8" Fish Bag that fit a 5'7" Campbell Bros MB5 very nicely, and this last one recently, a 6'0" shortboard bag for my 6'0" Roberts WD2 Thruster. That fits very nicely with my AM2 Large fins installed (I hate removing my fins. So I can say nothing by great things about the board bags. Both are different and unique, and unlike my other board bags in style. Definitely recommend anything from Rareform.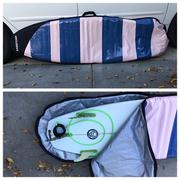 Great board bag
This board bag is great. I love that this company is recycling old billboards. The bag is a little on the big side so I would not order a bag much longer than the length of your board.
Exactly what I wanted
This bag is constructed to last. Nice heavy zipper that just glides open and shut. The billboard material has some kind of rip-stop grid that makes it extra tough. And the graphics are cool!
Even better than expected
Amazing quality so hyped. I have three now and couldn't be happier. They are so durable!
translation missing: en.general.accessibility.refresh_page
translation missing: en.general.accessibility.selection_help