Description
The Snap Case is crafted from re-purposed billboard vinyls to protect your iPhone 8 Plus and iPhone 7 Plus. Featuring a durable hardshell exterior for complete protection, our surprisingly slim cases are built to last.
Details
Shipping and Returns
Hand-Cut in California.
FREE shipping on all U.S. orders over $100.
Ships within 1-2 days.
All international shipping carrier calculated at checkout.
Add to Cart ($14)
Our Process
How we do it
We recycle billboard vinyl and turn it into unique, durable bags and products. Over the past seven years we've processed 3 million pounds of vinyl that's destined for landfills.
Hand cut vinyl
Making the best of what we have
Each item is sewn to create a unique, high-quality, durable product where there's literally nothing like it. Each of our cut pieces are meticulously sewn together using high quality materials to ensure that your bag can endure whatever adventure you take it on. 
Customer Reviews
Write a Review
Ask a Question
Nice cell phone cover
The cell phone cover is not bulky and has a unique look.
Great iPhone case
Absolutely love it!!
First of all I hate phone cases
But after having cracked my screen twice I decided it was time to get serious, most cases I've had in the past make my phone too clunky or the plastic is sticky and I can't easily put it in a pocket. But this case is great! It has a slim design, doesn't bulk up my phone and it easily slides in and out of pockets...most importantly I haven't cracked my screen again :)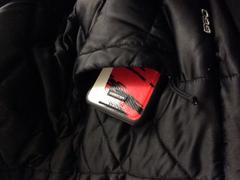 Great stuff from Rareform!
I love the items I bought ! My backpack is unique with the initials J.J.A! And my polka dots phone case is great amd colorful! I haven't used the duffle but I am sure it's going to be great! The concept of having something unique and fun, and the idea of recycling is a great idea!
iPhone case
Fits perfect, very cute too.
translation missing: en.general.accessibility.refresh_page
translation missing: en.general.accessibility.selection_help