15" Laptop Sleeve
Sold Out
Description
The RAREFORM laptop sleeve for MacBook Pro 15" fuses design with superior technology protection. Featuring a minimal, clean aesthetic, the sleeve is fully padded and fleece lined.
Details
Shipping and Returns
Hand-Cut in California.
FREE shipping on all U.S. orders over $100.
Ships within 1-2 days.
All international shipping carrier calculated at checkout.
Add to Cart ($42)
Our Process
How we do it
We recycle billboard vinyl and turn it into unique, durable bags and products. Over the past seven years we've processed 3 million pounds of vinyl that's destined for landfills.
Hand cut vinyl
Making the best of what we have
Each item is sewn to create a unique, high-quality, durable product where there's literally nothing like it. Each of our cut pieces are meticulously sewn together using high quality materials to ensure that your bag can endure whatever adventure you take it on. 
Customer Reviews
Write a Review
Ask a Question
Such a great idea
Love, love, love that this is made from old billboards.
Love the Laptop Sleeve
The quality is great. It is exactly what I wanted. Now I want to purchase a wallet.
EG
09/25/2018
elizabeth g.
Perfect Sleeve
The 15" size is bigger than I need for my laptop, but the extra room accommodates the charging chord. Since I don't take my laptop home everyday, I discovered this size is perfect for a clipboard of papers to grade for the night. For the first time ever, the top pages are not getting mangled in my bag. The soft interior cushions and protects your gear from scratches. Overall, the quality is excellent, the colors vibrant and I love that it uses recycled materials. Total win.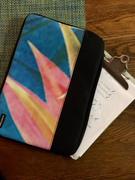 Love my colorful laptop sleeve!
I love my Rareform laptop sleeve as it does a good job of protecting my laptop while looking colorful and cool and reuses a former billboard. How great is that?
Very nice cushioning inside....really nice!!
Exactly as pictured and perfect for a laptop or larger iPad. Nicely cushioned inside and is very well made. Love that the billboard vinyl is water repellant and looks amazing. Stitching and zippers are really good. Would buy again. Saw Rareform on Shark Tank and had to have their product. I like they are reusing the vinyl.
translation missing: en.general.accessibility.refresh_page
translation missing: en.general.accessibility.selection_help