13" Laptop Sleeve
Sold Out
Description
The RAREFORM laptop sleeve for MacBook 13" fuses design with superior technology protection. Featuring a minimal, clean aesthetic, the sleeve is fully padded and fleece lined.
Details
Shipping and Returns
Hand-Cut in California.
FREE shipping on all U.S. orders over $100.
Ships within 1-2 days.
All international shipping carrier calculated at checkout.
Our Process
How we do it
We recycle billboard vinyl and turn it into unique, durable bags and products. Over the past six years we've processed 2 million pounds of vinyl that's destined for landfills.
Hand cut vinyl
Making the best of what we have
Each item is sewn to create a unique, high-quality, durable product where there's literally nothing like it. Each of our cut pieces are meticulously sewn together using high quality materials to ensure that your bag can endure whatever adventure you take it on.
Customer Reviews
Write a Review
Ask a Question
Filter Reviews:
inside
purchase
quality
shipping
01/24/2020
Sarah
United States
Pleasantly Surprised!!
I purchased a 13" laptop sleeve at the last minute since it was on sale and I was leaving for a long trip soon so I wanted something to protect my laptop. I didn't overthink it and just picked one with decent colors. I was pleasantly surprised when it arrived! The size fits my Microsoft Surface Pro 6 perfectly with a little extra room to fit my mouse, charger, and external harddrive. The inside is very soft and protective, and the vinyl outside is super durable. I was afraid the gray color was going to look "dirty" but it doesn't at all. It does take up a lot of room in my Herschel backpack, but it's worth it for the added protection. I would highly recommend this for anyone who wants to keep their laptop safe!
01/04/2020
STEPH V.
United States
Great!
I love this laptop sleeve and have enjoyed my whole shopping experience!
01/03/2020
Barbara M.
United States
Thank you, again!
What more can I say?! I love RAREFORM so much that this Christmas I bought three 13" Laptop Sleeves for my friends and family--customized, of course, to fit their particular color preferences and personalities. They were a hit! Thank you for your continuing creativity and social responsibility/sensibility. Love you guys!
12/24/2019
Ashley B.
United States
Super Cute and Very Durable
I love this case, and I get compliments every time someone sees it. I can tell it's very durable and will last me a long time. I got the 13" and it is 13" so it exactly fits my laptop. I am hope for a bit of stretching but I haven't had it long enough to see. I can't wait to buy some of the other products.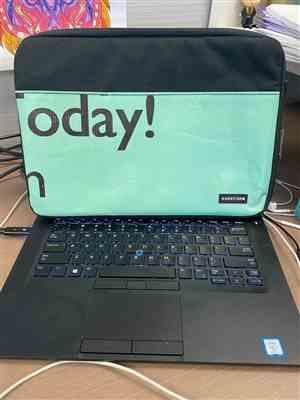 12/19/2019
Sabrina F.
United States
translation missing: en.general.accessibility.refresh_page
translation missing: en.general.accessibility.selection_help