13" Laptop Sleeve
Sold Out
Description
The RAREFORM laptop sleeve for MacBook 13" fuses design with superior technology protection. Featuring a minimal, clean aesthetic, the sleeve is fully padded and fleece lined.
Details
Shipping and Returns
Hand-Cut in California.
FREE shipping on all U.S. orders over $100.
Ships within 1-2 days.
All international shipping carrier calculated at checkout.
Add to Cart ($38)
Our Process
How we do it
We recycle billboard vinyl and turn it into unique, durable bags and products. Over the past seven years we've processed 3 million pounds of vinyl that's destined for landfills.
Hand cut vinyl
Making the best of what we have
Each item is sewn to create a unique, high-quality, durable product where there's literally nothing like it. Each of our cut pieces are meticulously sewn together using high quality materials to ensure that your bag can endure whatever adventure you take it on. 
Customer Reviews
Write a Review
Ask a Question
A Conversation Starter
I can't say enough about this laptop bag. I initially ordered these because I wanted a one-of-a-kind product that no one else had. Well I got that, buuuttt, I also got peace of mind. How you ask? I carry my laptop around in a backpack instead of a laptop bag, which means there isn't much padding on the bottom of the bag. This meant that every time I put my bag on the floor I had to be EXTRA gentle not to lay it down too hard and damage my laptop. This case changed that. This case has a super soft inside and a sturdy enough, protecting the laptop from both ends. Since I started putting my laptop in this case before putting it into my bag I have not once worried about how gently I drop my bag. Oh yeah, it's also cool and unique enough to be a conversation starter.
Stoked
Great product and stoked on my purchase. Love the design, color was a little brighter than the pic on the site. I prefer the brighter blue and design and ways. Case is slightly looser for the newest gen of MacBook Air. Quality product and I will be purchasing more items from RareForm in the future.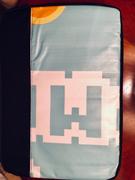 laptop sleeve
Another great product from Rareform !! I use it for my Ipad Air 10.5 Fits good with room for charging cord...Feels very secure and protected...
Great product
Love the sleeve. It is so well made, protects my computer and even has room for papers if I need to take them with me. Rareform products are the best! Thanks
Perfect Travel Portfolio for Artists
The thing is I don't use the sleeve for a laptop. I carry a sketchbook, a selection of pens and pencils, and a journal in it. Fits inside my asana studio tote and is also perfect for day excursions or travel on its own. I just add my rareform wallet and my cell and off I go. The design is just as I thought it would be and is one of a kind. Well made and recycled...nothing more I need.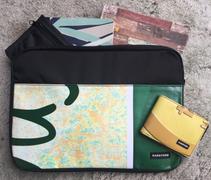 translation missing: en.general.accessibility.refresh_page
translation missing: en.general.accessibility.selection_help