Your browser does not support HTML5 video.
Description
The ideal surfboard bag for day-to-day use. Each bag is unique in design and uses 1/4 inch foam to keep your board safe. The repurposed billboard vinyl is UV and heat-reflective plus ultralight and durable.
Details
Shipping and Returns
Hand-Cut in California.
FREE shipping on all U.S. orders over $100.
Ships within 1-2 days.
All international shipping carrier calculated at checkout.
Our Process
How we do it
We recycle billboard vinyl and turn it into unique, durable bags and products. Over the past six years we've processed 2 million pounds of vinyl that's destined for landfills.
Hand cut vinyl
Making the best of what we have
Each item is sewn to create a unique, high-quality, durable product where there's literally nothing like it. Each of our cut pieces are meticulously sewn together using high quality materials to ensure that your bag can endure whatever adventure you take it on.
Customer Reviews
Write a Review
Ask a Question
Filter Reviews:
Rareform
recycling
boards
staff
experience
03/22/2020
Jeff
United States
Bag # 5
The over all experience was awesome. I live near by and dropped in to grab a new bag. The staff was friendly, helpful and accommodating ... This is my fifth bag from rare form. They are durable and my boards fit well. And you feel good about recycling. Go get one - they are great. Thanks Rareform
06/14/2019
Marc H.
United States
Board Bag
Fits my 6.0 X 22 retro board perfectly... Great Bag for the pick-up-Throw it in back and no worries. Great Quality as usual from RAREFORM...
05/31/2019
Jacob N.
United States
stoked on this bag
duuuuudddeeeee! just used this board bag for my new 5'10" fish (shout out to sponsored Sam Wetzel for the Janky Wave) and i love it so much! quality product, incredibly efficient and durable. stoked about the repurposed billboards and opportunity to support some other Westmont peeps! love what all you guys are doing and have a blessed rest of your day!!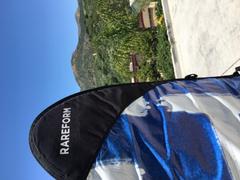 Cool bag
Seems to be as good or better quality as most day bags out there. Price is right about the same too. Not super thick so I probably wouldn't fly with it but perfect for throwing in the back of the truck or using on a short surf trip.
translation missing: en.general.accessibility.refresh_page
translation missing: en.general.accessibility.selection_help